The Ashe County Christmas Tree Association established this scholarship in an effort to promote higher education in the field of agriculture. It is important to the association that our agricultural community flourishes by educating young minds on the importance of agriculture in our area. We welcome all Ashe County High School Seniors to apply, although special consideration will be given to students pursuing agriculture or agriculturally-related fields.
Eligibility:
The $1,000.00 scholarship is awarded in May and will be presented at the beginning of the students Freshman year to the financial aid office of the students choosing. The Ashe County Christmas Tree Association Board of Directors will determine the recipient based on the following requirements:
Applicant must be a graduating high school senior for the current year
Applicant must be a resident of Ashe County
Applicant must have maintained an unweighted 2.5 GPA
Financial need taken into consideration
Work History
Involvement in extra-curricular/community activities
The intent to pursue a career in agriculture or in an agriculturally -related field
Character and leadership potential
Download the scholarship application.
2023 Scholarship Recipient
Colin Estes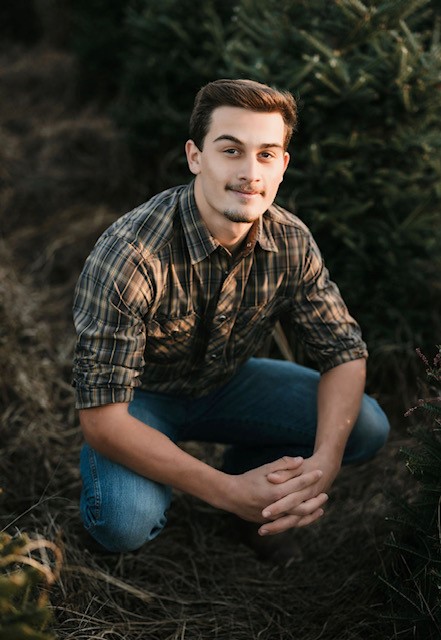 Colin Estes is the son of Beau and Amanda Estes of Jefferson, North Carolina. Colin graduated in May and will be attending Montana State University this fall.
He enjoys hunting, skiing, camping, hiking, rock climbing, riding dirt bikes, and staying active outdoors. Colin played football and baseball for Ashe County High School all four years. In 2021, Colin earned All-Conference and the Coaches Award in football. In 2022, he earned All-Conference and the Best Offensive Back Award in football. He also broke a school record for receptions. In 2023, Colin earned All-Conference and the Best Offensive Player Award in baseball. In addition to playing sports, Colin works summers and every tree season for Peak Farms, his family's Christmas tree farm. While working on the farm, Colin has learned a lot about the Christmas tree industry and what it takes to run a successful business.
Colin likes meeting new people, working with them, and having the opportunity to learn from them. He's excited to be able to do all of this at Montana State University beginning this fall. Colin plans on earning a Business Degree in agriculture. With the degree and gained knowledge, Colin's goal is to move back to North Carolina, farm Christmas trees with his father, and help grow the family's business. This scholarship money will help pay for tuition and books at Montana State University and is very much appreciated.